Forever Growing Together
Come join us for the 30th Syracuse Salt City Mid-Winter Roundup!
A weekend full of activities awaits you!
We Pay Our Own Way
There are many A.A. conventions held around the world with Al-Anon and Alateen participation by invitation. One of the most common misconceptions is that conventions are A.A. meetings.
Conventions are special events which require a substantial amount of funding, not regular meetings. This convention is self-supporting. No group money is used to pay for this event. The cost of this convention is paid through your registration fees. No baskets are passed. Attendance is voluntary.

Early Registration is Now Open!
Early Registration cut-off is January 30, 2017.
Early Registration Cost
A.A Registration + Banquet: $65.00
Al-Anon & Alateen Registration + Banquet: $65.00
Non-member Registration* + Banquet: $65.00
A.A. Roundup Only: $20.00
Al-Anon & Alateen Roundup Only: $20.00
Non-member Roundup Only*: $20.00
*Non-members are those who are not active members of A.A., Al-Anon or Alateen
At-The-Door Cost (credit cards accepted)
Registration + Banquet*: $70.00
Registration Only (Fri. & Sat.): $25.00
Banquet Sales End at Noon on February 11, 2017
There are no "Banquet Only" tickets

Sunday, February 12th: Attendance for Sunday is FREE and all are welcome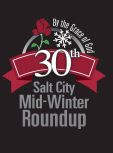 Send Comments on this website to:pr@saltcityroundup.com